The Vikings fell to the Colts on Sunday by a score of 28-11, their second straight loss to start the season. It's their first 0-2 start under Mike Zimmer and the worst a Zimmer team has looked in back-to-back games with both games out of reach by the start of the fourth quarter. There 14-games left to right the ship, but unfortunately there have been zero positive elements to point to after two weeks. It's a mix of questionable coaching and lack of execution that has the Vikings in deep need of an identity.
Mike Zimmer and the Defense
Let's start with Zimmer. First off, I would be shocked if the Vikings made any form of head coaching switch this season. I think the team would have to be close to 0-16 for that to occur. As it stands, Zimmer deserves the benefit of the doubt. His .587 winning percentage is good for ~9.3 wins/season and since he's taken over as head coach, the Vikings have been a consistent playoff threat.
This consistency is normally due to coaching a top-10 defense, but with the youth movement in the offseason, Zimmer's challenge is to quickly mold young players to run the defense he's accustomed to coaching. So far, this task is too tall.
There are still Pro-Bowl caliber players on every level of the defense: Harrison Smith and Anthony Harris at safety, Eric Kendricks and Anthony Barr (out for the season) at linebacker and Danielle Hunter (soon) and Yannick Ngakoue on the edge. That's a heck of a core, but it leaves a lot to be desired in two areas the Vikings are getting gashed: cornerback and defensive tackle.
Zimmer preaches stopping the run first, leaving opponents in longer third-down situations to get the defense off the field. Without an imposing, space-eating presence at defensive tackle (the reason the Vikings invested in the opted-out nose tackle, Michael Pierce) or a sticky corner, opponents are gaining chunks on first and second-down and the defense is continuing to allow long, drawn-out drives. Zimmer's defenses were at their best when Linval Joseph manned the middle and an in-his-prime Xavier Rhodes could shut down a team's top receiver. With those positions now among the weakest on the team, Zimmer's defensive strategy must change quickly. There are still studs on the defense, and he needs find ways for those players to mask the weak spots on the defense – especially on early downs.
Gary Kubiak (And Mike Zimmer) and the Offense
I'm not sure if the offense or the defense is worse. Either way, the defense has a little more of an excuse, running out inexperienced corners in a shortened preseason, and losing their primary investment to an opt-out. The offense, however, is largely the same – outside of Stefon Diggs departure (turns out he's still good). Even though Zimmer's defense is being gouged, I take a larger issue with the offense, because the game plans and usage makes no sense with how the front-office has invested in this team along with the severe lack of imagination.
Two plays against the Colts were the perfect microcosm of this season:
Play #1 – Coming off a massive red-zone interception, the Vikings faced 3rd and 9 from their own 6. To extend the drive, gain better field position and give their defense a blow, the decision was to hand it to Alexander Mattison in the shotgun for a gain of 4, a play that is just as effective as punting on 3rd down.
The Vikings pay Kirk Cousins an annual salary of ~33 Million and just handed Dalvin Cook a fancy new contract, only to hand off to their backup running back on a crucial 3rd down, play the field position game and punt from their own 10.
I don't have an issue with paying Kirk, but if the Vikings are going to pay him top dollar, they need td trust him to throw the ball deep in their own territory. That play is reflective of what a team with a rookie quarterback does. If that's the play call, and the Vikings are going to play field position (with a bad defense) – then don't pay the quarterback. I'd rather trot out some slouch that can manage the game and spend the money elsewhere.
Zimmer has never trusted his quarterbacks enough to hand them the keys to the team, instead, relying on field position and his defense to win games. Kirk isn't an exception, but he's paid like he should be. Kirk's contract doesn't fit if that's how games are going to be called.
Play(s) #2 – After a Colts touchdown, the Vikings look to respond – Alexander Mattison takes the series, the Vikings go 3-and-Out
Dalvin Cook is one of the best running backs in the NFL and just received a 5-year, $63 Million contract, When the Vikings need an answer, they should probably put their best player on the field, especially one who is paid as such. This isn't a knock on Mattison – it's just questionable usage. If you're going to pay Cook, why is Mattison eating into the crucial drives that are necessary to change the momentum of the game.
On top of that, there has been a severe lack of imagination by Kubiak. To be potent, the Vikings need to manufacture Cook more touches, use Irv Smith more creatively, and involve Justin Jefferson. Instead, Kirk is dropping back, looking for Thielen, or taking a sack. It's unimaginative and needs to be better, but most of all – the plays should feature the players that are being paid, not take it out of their hands when the offense needs a spark.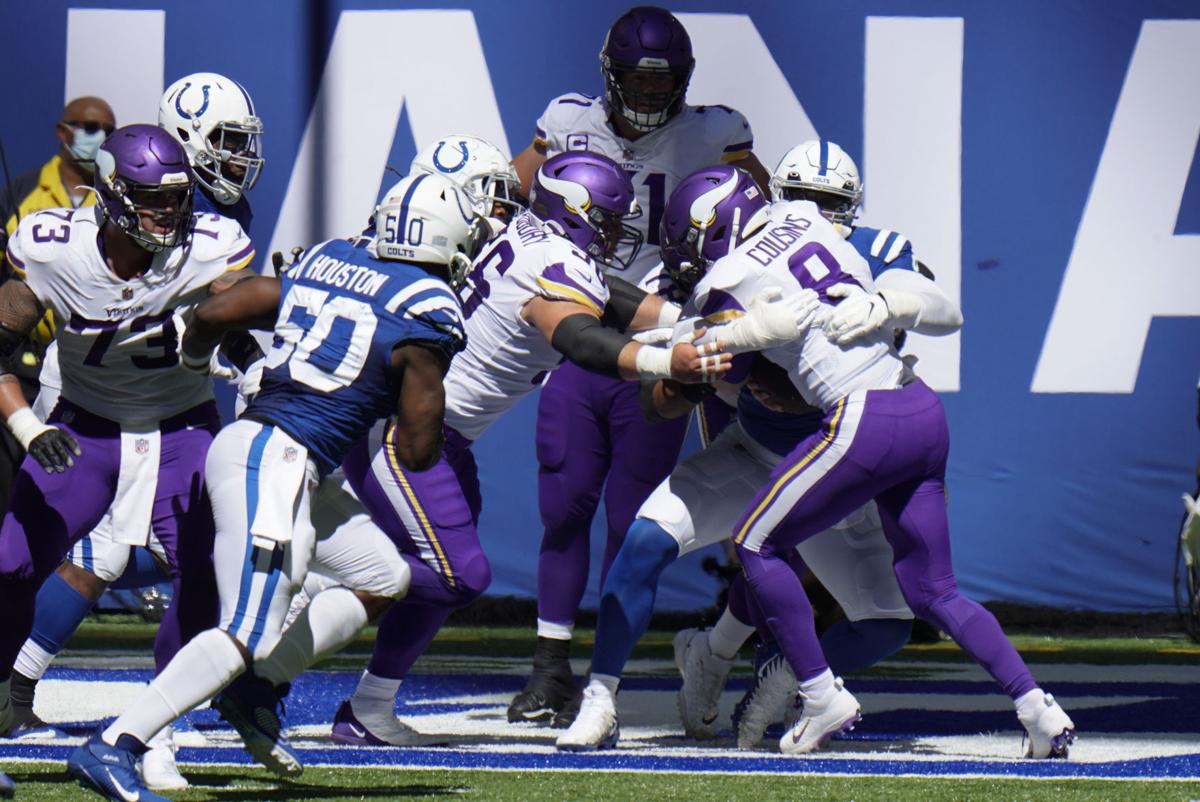 Kirk Cousins
There's not a great deal to say here. There's not a massive sample size because the Vikings have been on the field for about 10 plays in each game. Nobody's executing but Kirk must be talked about. Against the Packers, there was a glimmer of hope to see him navigating the pocket and using his 'athleticism' to create plays off script. Unfortunately, since, he has had a few uncharacteristically inaccurate throws, has tunnel vision for Adam Thielen and has been a statue in his own endzone.
They play calls haven't impressed, and Kirk hasn't been good enough outside of structure to elevate that. To reiterate, I think he can be worth his contract, but there has to be greater trust than there is today.
Bottom Line
The Vikings have no idea who they are.
In the offseason, they extended their franchise-quarterback and running back. They also extended their head coach and general manager, looking to build off a strong season that saw them win a playoff game in one of the toughest venues in the NFL. They secured that stability.
Two games into the season, that quarterback isn't trusted on his own end of the field.
That head coach has been unable to overcome challenges on the side of the ball he prides himself on.
That general manager evaluated his team two short weeks ago, decided they were a playoff/Super Bowl contender and traded a future second-rounder for a difference-making pass rusher. They have two sacks in two games.
That running back has 26 carries two games, only 63% of the backfield touches.
The Vikings outlined their recipe for success. They invested resources to create a winning formula. With that, the team has had more turnover than in years past, and with that, there are going to be growing pains, especially in a shortened pre-season. While that happens, though, they at least need to lean on the elements that they determined are their strengths.